ESUP-Days
Les ESUP-Days sont organisés deux fois par an.
Ils permettent à la communauté ESUP de connaître les derniers développements du consortium et de partager leurs expériences.
Voici les replay disponibles:
Esupdays#30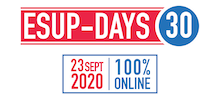 The video is currently being transcripted.
Agimus-NG : vers la v7
SYGAL : vers un nouvel envol
Esup-Signature : En action à l'Université de Rouen Normandie
Avancement du projet e-portfolio, industrialisation Karuta et présentations de "K"
Esupdays#30 - apres midi [Sept. 23, 2020]
This video is chaptered. Click the chapter button on the video player to view them.
Infos
Added by:

Additional owner(s):

Updated on:

Feb. 14, 2022, 3:41 p.m.

Duration:

02:12:48

Channel:

Number of views:

Type:

Main language:

French