ESUP-Days
Les ESUP-Days sont organisés deux fois par an.
Ils permettent à la communauté ESUP de connaître les derniers développements du consortium et de partager leurs expériences.
Voici les replay disponibles:
Esupdays#30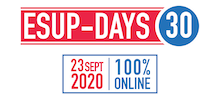 The video is currently being transcripted.
Introduction / Points généraux
Point d'avancement et nouveautés sur les solutions ESUP hébergées
Mise en place de Rocketchat et intégration à Moodle et Zimbra
PLaTon (Platform for Learning and Teaching online), un outil pour apprendre et enseigner
Évolution du projet OAE
Esupdays#30 - matin [Sept. 23, 2020]
This video is chaptered. Click the chapter button on the video player to view them.
Infos
Added by:

Additional owner(s):

Updated on:

Feb. 14, 2022, 3:42 p.m.

Duration:

02:02:11

Channel:

Number of views:

Type:

Main language:

French